Uncategorized
Cheech Marin And Tommy Chong Have Another Movie In The Works – Exclusive
Cheech Marin's new movie The War with Grandpa is noteworthy for many reasons, chief among them the reunion of The Deer Hunter stars Robert De Niro and Christopher Walken for their first film together since the Best Picture winner was released in 1978.
But 1978 was an important year for Marin, too, since it marked the release of the marijuana-infused comedy classic Up in Smoke, the first feature film to star Marin and his comedy partner Tommy Chong, who came to prominence as the stand-up duo Cheech and Chong. And while the heralded funnymen reunited for several projects afterward, including the features Cheech & Chong's Next Movie, Things are Tough All Over, and Still Smokin', they haven't done a live-action feature film together since Cheech & Chong's The Corsican Brothers in 1984.
Is there any chance that the iconic duo will ever team up to hit the big screen again? Looper got the chance to have a brief virtual sit-down with Cheech Marin, and we just had to ask.
Something old is something new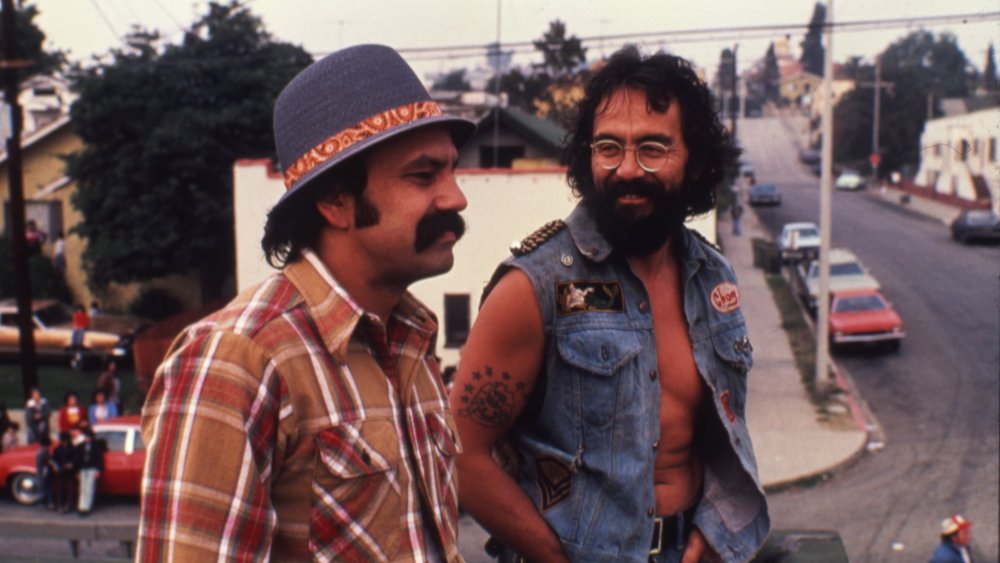 To be clear, it's not that Cheech and Chong completely stopped working with each other altogether — they've done live comedy appearances and short videos over the years, and even lent their voices to Cheech & Chong's Animated Movie in 2013. But there is definitely more to come, Marin told Looper, and it will chronicle the history of their act. "We have a documentary coming out pretty soon on our origins, which will be quite amusing," Marin says. What will make it so amusing? As the comedian teases, "We started in a strip bar, so…"
As to the prospects of another Cheech and Chong feature film, Marin says that's a work in progress. "Well, you never know what can happen, but somebody will have to wake Tommy, so that's a project in itself," Marin says with a smile, alluding to the stoner reputation of his creative partner. "So, we'll see what happens."
Also starring Uma Thurman, Jane Seymour, and Rob Riggle, The War with Grandpa opens in theaters October 9.