Uncategorized
Lucasfilm Updates Boba Fett Trademark – Could This Be Big News For 'The Mandalorian'?
Considering how ubiquitous Boba Fett was to the Star Wars merchandise in the years prior to the Disney purchase, the character has been shockingly absent from Star Wars media since then. But a new trademark, filed in time for The Mandalorian, suggests that things are about to change.
Star Wars toy reporting site YakFace has managed to find some interesting trademark information concerning the character described by Darth Vader as "The best bounty hunter in the galaxy." In the past week, Lucasfilm has updated the trademark for Boba Fett. You can read the fine print below:
This trademark has been updated a handful of time since it was first applied in the late 1970s and various points in the 1980s, most notably around the time of Attack of the Clones (which featured a young version of the character and his clone-dad) and The Clone Wars (which continued that story and was intended to showcase how he began to stake out a reputation as the galaxy's best bounty hunter). Every time the trademark is updated, of course, is tied in with the creation of new merchandise tied to the character in question, indicating that a big push for Boba Fett will finally be coming soon.
The past few years of Star Wars have been shockingly quiet for Boba Fett fans, aside from a handful of comic book appearances and the Aftermath books alluding to his presence without actually featuring him at all. The character was surprisingly AWOL in Rebels and wasn't even mentioned in the sequel trilogy in spite of the cavalcade of cameos and returning characters that those films had. This silence seems to be tied to the intent to make a spin-off film about the character; that project initially had Josh Trank as a director before he was fired (though Trank has since indicated that he willingly quit after having a hostile experience working on a big-budget project like Fant4stic, and he wanted to avoid a repeat of that), while James Mangold was later said to be circling a new iteration of that project close to Solo's release, which he later denied along with more recent rumors that he guest-directed part of The Mandalorian this season. Lucasfilm President Kathleen Kennedy also made a statement indicating that plans for a Boba Fett feature film had been scrapped due to development on The Mandalorian, which was to star a similar character, taking priority. But the stars have been lining up for speculators in a way that suggests there's a very good reason that The Mandalorian would take precedence over a hypothetical Boba Fett project – and that is because Boba Fett is appearing on the series.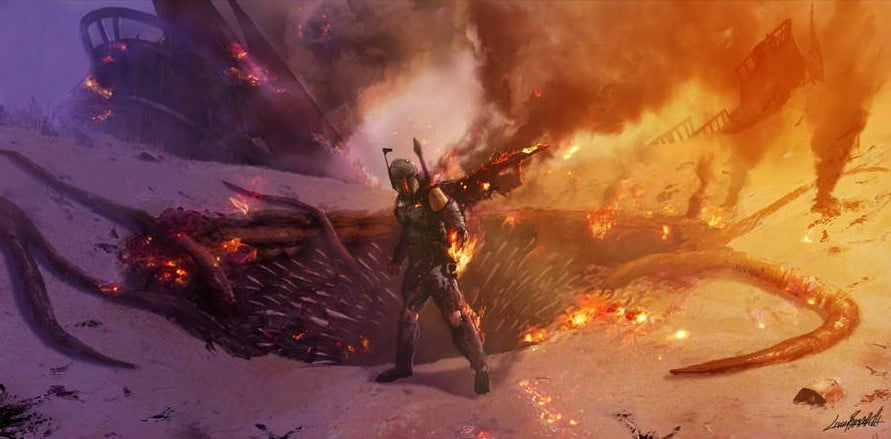 The very first hint that Boba Fett was headed for the series came in The Mandalorian's fifth episode, "Chapter 5: The Gunslinger". Although it initially appeared to be a world-building filler episode, the ending hinted at greater significance for things to come when a mysterious armored figure approached the unconscious body of wanted target Fennec Shand. The show cuts to the credits before we can see who this person is, but the ever-familiar sound of Boba Fett's spurs were heard, leading to many concluding that the bounty hunter was back after previously facing an undignified end on Tatooine in Return of the Jedi (which had a blinded Han damaging his jet pack, causing him to crash into the sail barge before falling into the Sarlaac pit). Of course, those who have read the Aftermath can tell you that Boba Fett's fate after Return of the Jedi is pretty unclear – while Jawas recover some damaged Mandalorian armor, it's left deliberately vague as to what happened to its owner, if it even is Boba Fett. One character, a sheriff named Cobb Vanth, decides to use the armor to his advantage and bring peace to a Hutt-free Tatooine. Fans have speculated that it's Cobb Vanth in that last scene of "The Gunslinger", which would certainly fit the setting and his profession (seeing as the criminal assassin Fennec Shand, who is rumored to make a return this season, would likely be best kept behind bars).
Not that long ago came some casting information about the second season of The Mandalorian that supported not only the rumors of Boba Fett's return, but also of the involvement of Cobb Vanth. The Hollywood Reporter broke the news that Jango Fett actor Temuera Morrison would be involved in The Mandalorian, sort of reprising his role from Attack of the Clones as his character's clone-son, and that he'd be appearing alongside Star Wars newcomer Timothy Olyphant, an actor best known for his role as a sheriff on the Western series Deadwood. The typecast potential for the latter seemed pretty on-the-nose for speculators, but a later update from Slashfilm all but confirmed what fans had expected: Olyphant was rumored to have filmed several scenes wearing Boba Fett's armor, pretty much spelling out the idea that he'd be playing Cobb Vanth.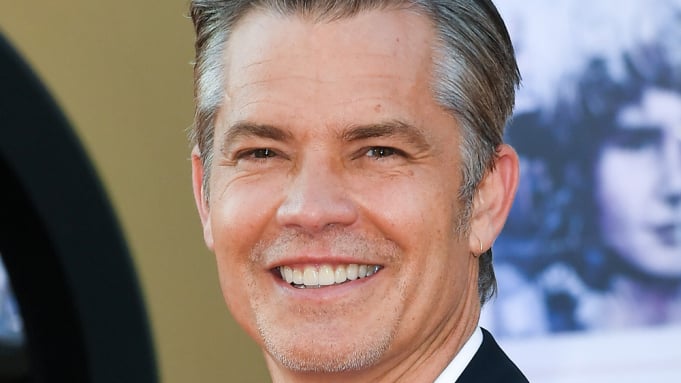 As time went on, both Olyphant and Morrison were both indirectly confirmed to be part of the new season, but a very interesting hint at Boba Fett's inclusion in the show's second season was seen in a blink-and-you'll-miss-it shot in the first trailer: while riding a speeder through the desert, the Mandalorian's cargo includes very specific jet-pack and helmet designs that looked a lot like the ones that Boba Fett (and, by extension, Cobb Vanth) wore. What our protagonist is up to remains to be seen, but it's looking incredibly likely that we're headed back to Tatooine, and that we'll be seeing both the bounty hunter who wore the armor and the sheriff who took it for himself. With the season imminent, we hopefully won't have to wait too long to get some answers, but it definitely seems like Boba Fett is about to make a pretty big comeback.
The first season of The Mandalorian is streaming exclusively on Disney+. The second season will debut on Disney+ starting on October 30, 2020. A third season is currently being written by Jon Favreau and is in pre-production for an unknown release window, while actor Giancarlo Esposito has indicated that there are plans for at least four seasons.