Uncategorized
'Three's Company': Jeffrey Tambor Played 4 Different Characters On the Series
An iconic TV series that premiered in the late seventies and ran for eight successful seasons, Three's Company featured a wide variety of talented actors. While John Ritter, Suzanne Somers, and Joyce DeWitt had the leading roles in the series, Three's Company welcomed many guest stars over the years, from established actors to up and coming young talents.
One of these young showbiz newcomers was Jeffrey Tambor, who at the time was best known for his work in various television commercials. Although Tambor is a huge star these days when he was on Three's Company, he was still working hard for any notoriety that he could get — and he wasn't above playing multiple roles on the show in order to make an impact. 
What was the premise of 'Three's Company'?
Three's Company first debuted on television in 1977. The show, which was based on a popular British sitcom, tells the story of three single roommates, two attractive young women and their male friend. Although there is plenty of misunderstanding and awkwardness, the trio eventually becomes incredibly close, and are all able to form their own individual romantic attachments.
Right away, Three's Company was a hit with audiences everywhere. Modern, fresh, and funny, the show tackled a real issue with hilarity and inventiveness. It ran on television for eight successful seasons, finally going off the air in 1984. Although it has been off the air for decades now, Three's Company has become popular with new generations of viewers, who can appreciate not only the comedy of errors caused by having multiple roommates but also the talent that the show was able to attract. 
How did Jeffrey Tambor get started in acting?
Jeffrey Tambor was born in 1944 to working-class parents. Raised in California, he studied acting in high school, and later at San Francisco State University.
His earliest acting roles were on stage, and he appeared in a variety of theater productions before turning his attention to television. Tambor acted in a succession of commercials, including ads for Avis rental car company.
Eventually, Tambor was able to score some roles in episodic television. He made a splash in shows like Taxi and M*A*S*H, gaining the experience necessary to land even bigger parts.
In the late '70s, when Three's Company was in its heyday on television, Tambor was cast on the show as a guest star. He eventually returned to the series several times — but never as the same character.
What roles did Jeffrey Tambor play on 'Three's Company'?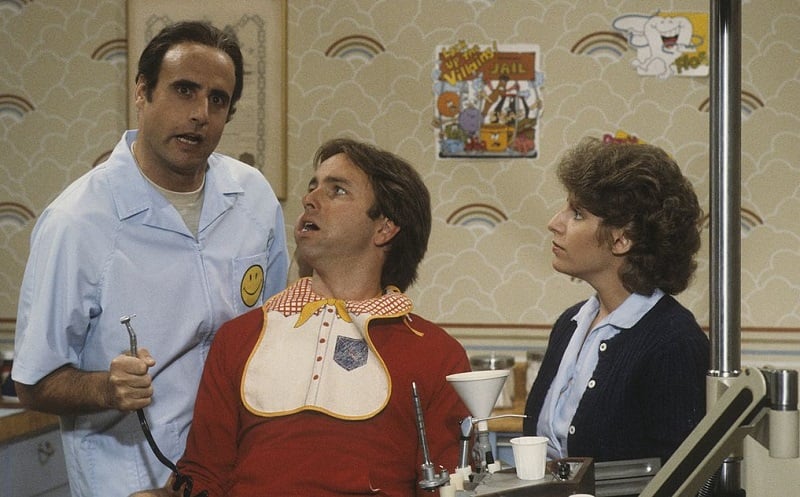 Jeffrey Tambor actually played three cameo roles on Three's Company over the years, reports Mental Floss. His first appearance was as Winston Cromwell III, a wealthy man who developed a romantic interest in Cindy.
In a later episode, he portrayed Dr. Tom Miller, a prestigious psychiatrist who is confused by Janet and Jack as a mental patient.
Finally, Tambor played a dentist named Dr. Phillip Greene. Greene and Terri had dated briefly before she unceremoniously dumped him.
In addition to his cameo roles on Three's Company, he portrayed Jeffrey P. Brookes III in the spinoff series, The Ropers.
Tambor proved that he could effortlessly navigate between comedy and drama, portraying eccentric characters with ease. He was received well by audiences, and ultimately, his work on episodic television led him to become a major star in Hollywood by the early 2000s.
He would go on to receive several Primetime Emmy Award nominations as well as a Golden Globe Award for his work in the TV show Transparent, where he played a transgender woman named Maura. Tambor's days of minor guest roles are long gone — but it is likely that he still looks back on his days on Three's Company with fondness.