Uncategorized
Vikings Season 6 Return Date, Trailer, Cast, Episode Guide, and News
Vikings season 6 has returned to the History Channel, and will serve as a conclusion to the long and bloody saga.
History confirmed Vikings season 6 to the surprise of no one back in September of 2017, which was about two full years before it was expected to arrive. While the guarantee of another season of the action-packed drama for a 20-episode sixth season remains true in 2019, an unfortunate addendum has been added: Vikings season 6 will serve as the show's final outing.
However, don't expect History's Vikings continuity to fade into, well, history, just yet. Creator Michael Hirst has revealed his intent to craft a spinoff series. He'll be joined on this endeavor by writer Jeb Stuart (Die Hard, The Fugitive). No details have been revealed about the project as of yet.
Vikings Season 6 Return Date
Vikings season 6 has wrapped up the 10-episode first half of its season and now the wait begins for the second half. History has not confirmed a release date yet but it will definitely arrive in 2020. The second halves of Vikings season 4 and 5 both premiered in November. 
Vikings Season 6 Episodes
We're keeping track of everything we know about the new season right here! We'll update this with new details as they become available.
Vikings Season 6 Episode 1: New Beginnings
Bjorn struggles with the responsibilities of kingship and finds he can't rely on his mother, Lagertha; she has other plans. Ivar falls into the hands of Kievan Rus, and in their ruthless and unpredictable ruler, Prince Oleg, he may finally have met his match.
Vikings Season 6 Episode 2: The Prophet
Messengers arrive in Kattegat with news that presents Bjorn with a dilemma. As Bjorn attempts to do the right thing as ruler of Kattegat, Prince Oleg of Kiev seems untroubled by his conscience.
Vikings Season 6 Episode 3: Ghosts, Gods and Running Dogs
Lagertha is forced to take action; In Kiev, although Oleg continues to be friendly, Ivar is aware of the threat which Oleg poses to the vulnerable young heir to the throne; Bjorn has answered the call and come to the aid of an old enemy.
Vikings Season 6 Episode 4: All the Prisoners
Lagertha leads her village's response to the recent attacks, but despite her best efforts, the consequences are tragic; Olaf has a bold new plan for the future of Norway; Ivar discusses Oleg's ambitions for Scandinavia.
Vikings Season 6 Episode 5: They Key
Norway's Kings and Jarls arrive at Harald's territory for the election of the King of all Norway, while King Olaf is confident of the result, the election may not run as smoothly as he thinks.
Vikings Season 6 Episode 6: Death and the Serpent
Bjorn is forced to act quickly in the aftermath of the election for the King of all Norway. The bandits attack Lagertha's village again, confident of victory. But when the defense boils down to single combat with Lagertha, victory for the bandits looks less certain. Back in Kattegat, haunted and paranoid, Hvitserk continues to unravel.
Vikings Season 6 Episode 7: The Ice Maiden
Bjorn returns to Kattegat; Harald gains a measure of revenge on Olaf; in Kiev, interesting news reaches Ivar and Igor about Prince Dir.
Vikings Season 6 Episode 8: Valhalla Can Wait
Bjron is confronted by a difficult choice to make; Ubbe and Torvi embark on a search for old friends and new lands after they leave Kattegat; Oleg's preparations for invading Scandinavia go as planned while King Harald investigates the raiding party.
Vikings Season 6 Episode 9: Resurrection
In Iceland, Ubbe and Torvi finally meet a mysterious wanderer; Erik returns from a scouting mission with worrying information; Bjorn must convince his old foe, King Harald, to join forces in the face of the new threat.
Vikings Season 6 Episode 10: The Best Laid Plans
While Ivar and Igor continue to plot against Oleg, they must depart from Kiev to begin invading Scandinavia; Kings Harald and Bjorn make frantic preparations to defend against the invasion, but the efforts of their quick work remain to be seen.
Vikings Season 6 Trailer
The trailer for the sixth season of Vikings has arrived!
Vikings Season 6 Cast
Of course, the September 2017 surprise of the preemptive Vikings season 6 was probably mitigated by the fact that open casting calls for – unambiguously enough – season 6 were held in late-August. The list called for:
"Fishermen, carpenters, craftspeople, farmworkers, axe men/women, skilled swords people, M&F archers, bowmen & women, M&F rowers, M&F sailors, ship hands & deckhands, calligraphers, Latin speakers, Arab speakers, musicians, midwives, nurses, animal handlers, hunters, blacksmiths, lumberjacks, magicians, jugglers, tree surgeons, whittlers, males with all types of haircuts especially, long hair and beards, all sporty types, martial artists, boxers, no visible tattoos, women with all lengths of naturally coloured hair, all men prepared to grow hair and beards and men and women with punk style haircuts."
Vikings Season 6 Story Details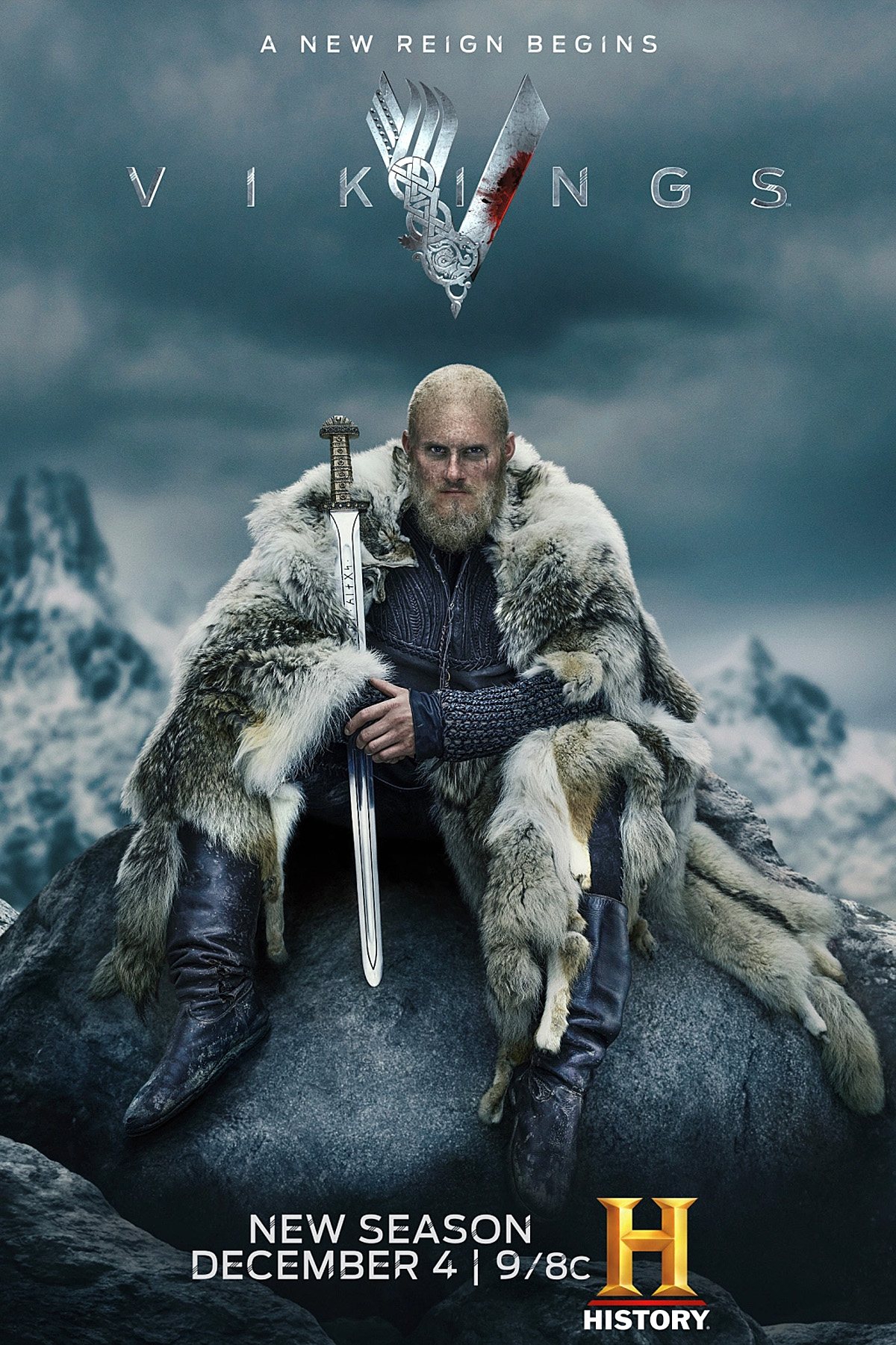 The Vikings season 5 finale left a lot of possibilities up in the air, but we're clearly in for a change of leadership. Although Ivar is still alive, he will likely find it difficult to assemble an army large enough to retake Kattegat and oust his half brother Bjorn from the throne. Recognizing that Bjorn's words are true, the people of Kattegat have abandoned Ivar and his tyrannical rule to support Bjorn, who like his father Ragnar, is a man of the people.
But what about the others? In Vikings season 6, will Ubbe and Torvi, whose appearance in Kattegat left Wessex without their leadership, return and farm the land with other Vikings and the English, or will their absence leave a void that could lead to conflict? And will the new season bring a resolution to the fate of Floki, who as far as we know is still trapped and perhaps dead in that cave?
All is speculation until a Vikings season 6 official synopsis comes down the pike. We'll keep you apprised.
Vikings Season 6 News
Contextually, the Vikings season 6 renewal, which arrived before the aforementioned launch of the long-running season 5, came with an intriguing angle, since season 4 made the monumental move of killing its protagonist and patriarch Ragnar Lothbrok (Travis Fimmel). Thus, even without seeing how the show's ratings would fare in season 5 (which we now know to be steady), History did not hesitate with the renewal decision as the show headed into uncharted waters in the first full frame without its main character. As Eli Lehrer, History's EVP Programming expressed in the 2017 statement:
"Vikings has creatively sailed to monumental lengths. The series has evolved from early raids in England, to the heart-stopping death of Ragnar Lothbrok, to the fierce battles of the Great Heathen Army, and now we'll see the sons of Ragnar exploring and conquering the known world."
"[Creator/writer] Michael Hirst has only scratched the surface of his epic saga. We look forward to continuing our partnership with one of the greatest writers in this era of Peak TV and entertaining our viewers with 40 new episodes over the next two seasons."
Interestingly, the promising debut of Jonathan Rhys Meyers's season 5 main cast character, warrior bishop Heahmund, recently came to an early conclusion with his demise in an epic battle in December 26, 2018 episode, "Hell." Yet the Vikings season 6 landscape still looks good for inaugural cast member Katheryn Winnick, who plays celebrated warrior woman Lagertha. The actress, whose star is surging – notably appearing in the big screen rendition of Stephen King's The Dark Tower and the upcoming Netflix martial arts action series, Wu Assassins – will not only step further into the spotlight in the post-Ragnar era, but will reportedly direct one of the season 6 episodes.