Uncategorized
THE TRAGIC REAL-LIFE STORY OF LARRY FROM THE THREE STOOGES
Think of all of the performing acts who broke up, often acrimoniously. Abbott and Costello eventually hated each other. Jerry Lewis wowed France and Dean Martin played Vegas and never the twain did meet for decades. Cheech and Chong. Chevy Chase and the rest of humanity. Can anybody keep track of how many times Simon and Garfunkel have reunited?
So besides a show business career lasting decades, besides being a musician and an athlete and a cultural icon, when you think of Larry of The Three Stooges, remember that he did that job — he was the middle Stooge, according to the official Three Stooges website – from March of 1928 until illness abruptly stopped his career in 1970; essentially working in the Howard family business, without a breakup, without going off to pursue a solo career. Larry Fine worked with Moe, Shemp, and Curly Howard, steady, steadfast.
People analyze The Three Stooges endlessly. The urban legends are rife. Just goofballs? That doesn't explain their intense popularity as they cranked out short films for Columbia Pictures in the 1930s, '40s, and '50s, as they toured with live shows, as they performed in vaudeville and on Broadway and nightclubs and military bases. "Dumb" doesn't explain their revival on the American pop culture landscape once their old films were syndicated to television. And always, Larry was there, backing up Moe and the other Howards.
NOT JUST A PUNCHING BAG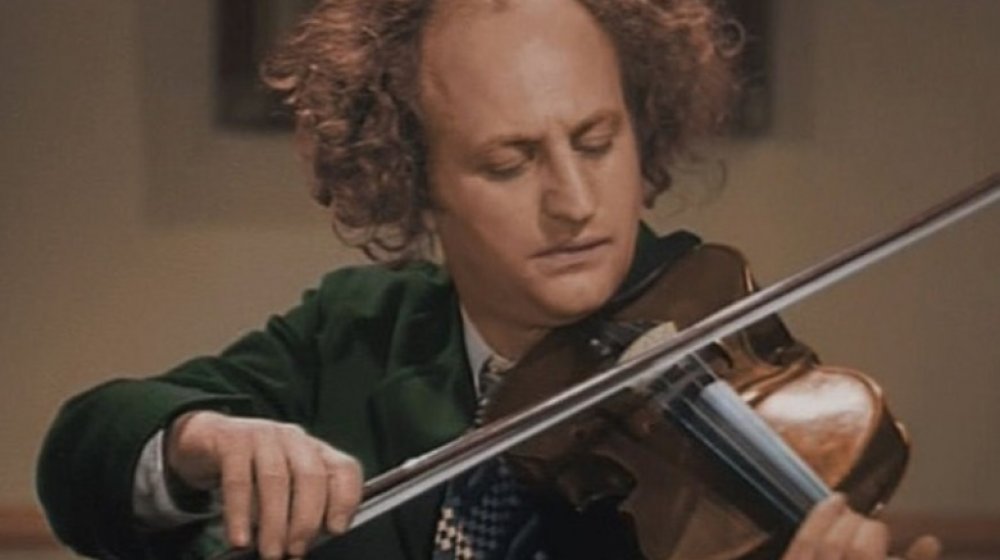 It's said that fans start out identifying with Curly's childishness, then grow to Moe's bossiness, and end up as Larry, forever caught in the middle, coming up smiling no matter what catastrophic fate has seen fit to inflict upon his preposterously frizzy-haired head. Or the rest of him, for that matter.
Because he wasn't just a sort of straight man, though he often was, reacting more than acting. He wasn't just a stooge, though of course that would have been plenty. Born Louis Feinberg in Philadelphia in 1902, the child of Russian Jews, he was badly injured in a childhood accident — his arm was burned by acid used by his father, a jeweler — and to help heal and strengthen the damaged limb, his parents signed him up for violin lessons, according to his biography at the Jewish Virtual Library. He became quite proficient at the instrument, too, and early on hit the vaudeville circuit as a violinist. Larry also turned to athletics to help recover from the injury, and had a short, but successful, career as a boxer, with one professional win to his record. You have to wonder if that was in the "strengths" column of his resumé — "can take a punch."
LARRY AND MOE WERE THE CONSTANTS
According to his obituary in the New York Times, it was Larry who replaced Shemp as a stooge for Ted Healy in a variety show/play in 1928. In 1929, Healy brought Fine back as a stooge for another play, this time joining forces with two Howards, Moe and Shemp. The three broke with Healy and earned a contract at Columbia Pictures, producing their first comedic short film in 1932. Shemp left the act, replaced by the baby of the family, Jerome, dubbed Curly. Shemp returned to fill out the trio after Curly was crippled by a series of strokes. When Shemp died, his place was filled in turn by three others: Joe Palma, Joe Besser, and Joe DeRita. But Larry, the non-Howard, was a constant.
Besides the nearly 200 shorts — "two-reelers," each around 15-20 minutes in length — the Stooges appeared on stage, entertained troops during exhausting tours of military bases during World War II, performed in nightclubs, and raised families. Larry, like Moe, married and stayed married. He wed Mabel Haney, a fellow vaudevillian, in 1926. They had two children: a son who died in a car crash at the age of 24, and a daughter.
GOOFY, BUT LOVABLE

His screen persona — goofy, happy-go-lucky — is said to have mirrored his actual personality. He was certainly unconcerned about money, and unfortunately spent it as quickly as he earned it. Fine also gambled, and apparently not well. He and his family lived in hotels for many years, first in New York and later in Los Angeles, before he finally broke down and bought a home in the late 1940s. Larry and Mabel remained together until her death in 1967. He got the news just before he was due to go onstage for a show in Rhode Island. The other two Stooges covered for him as he rushed back to California.
The reconstituted Stooges were working on yet another comeback, a TV series, when Larry, like Curly, suffered a stroke, paralyzing his left side. As his health declined he resided at the Motion Picture and Television Country Home and Hospital in Woodland Hills, California, where he continued to entertain residents and visitors. Even when he was finally confined to a wheelchair, he visited schools and gave talks, showing Stooge films and relating anecdotes. More strokes took their toll, and Larry died January 24, 1975, at the age of 73.